3 Clever Drinks for High-Brow Tipplers
We have heard it said that an ounce of pretension is worth a pound of manure, but we do not agree. Certain occasions call for pretentious behavior, even if you're doing nothing more than ordering a cleverly named cocktail to show off how witty or well-read you are. We've compiled a list of our favorite smart cocktails, but bear in mind that only the highest of high-brow tipplers will enjoy them. (We're just kidding. Clever cocktails are for everyone!)
The Catcher in the Rye
It's no surprise that this cocktail derives its name from J. D. Salinger's masterpiece on teenage angst and youthful anger. It's also no surprise that the cocktail contains a lot of whiskey. We're not kidding. Drink with caution, or else you're apt to start thinking that you're Holden Caufield. Put down that cigarette and stop sneering at girls, Holden.
Recipe:
1 ½ ounces of rye
1 ounce of Amontillado sherry
½ of an ounce of Torani Amer
¼ of an ounce of Grand Marnier
1 dash of bitters
Place all the ingredients in your cocktail shaker, after adding ice. Stir it, don't shake it. Strain the mixture into a glass and garnish with a twist of orange.
The Shirley Temple Black
You all know about the Shirley Temple, right? It's as precious and sweet as the adorable little imp for whom it's named. Shirley Temple was America's sweetheart, particularly during the Depression, when the nation needed someone to cheer up their collective sorrows. It's no wonder the curly-haired starlet inspired such a sweet, virginal cocktail. But then Shirley got married and became Shirley Temple Black, which inspired a cocktail of another kind. Basically, it's just a Shirley Temple with actual alcohol in it—usually dark rum (also a play on the name, you see), but honestly, you can use anything you like.
Recipe:
1 ½ ounces of dark rum
1 ½ ounces of cranberry juice
7-UP
Maraschino cherries
Grab a tall glass and fill it with ice. Pour in the rum, then the juice, and top it off with 7-UP. Add the cherries for garnish.
The Tequila Mockingbird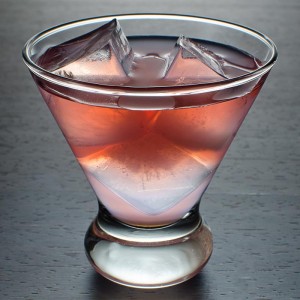 Get it? Like To Kill a Mockingbird! Isn't that terribly clever? Readers are a punny bunch. We have to say, however, that this is also a ridiculously delicious cocktail. It has a serious bite, thanks to jalapeno, but the heat can help stave off your hangover before it even sets in, which is excellent considering that there's tequila involved here.
Recipe:
2 ounces of Patron Silver Tequila
1 ½ ounces of watermelon-basil puree
¾ of an ounce of freshly squeezed lime juice
¾ of an ounce of agave syrup
1 jalapeno pepper slice
Muddle the jalapeno in your cocktail shaker, then fill the shaker with ice and add the rest of your ingredients. Shake it up for about ten seconds, then double strain it into a rocks glass that you've filled with ice.
Do you know any other clever cocktails? Get pretentious with us. Share the wealth.