Cocktails to Make With Chartreuse …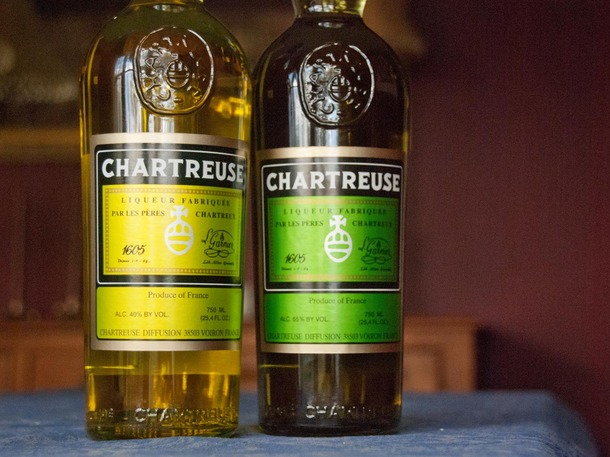 Chartreuse is an intriguing, mysterious liqueur. Produced by monks—one of the oldest orders in the world, in fact—the liqueur, originally called "An Elixir of Long Life," contains 130 plants, herbs, leaves, and roots, which the monks steep in an intense wine alcohol. There are two different types of Chartreuse: green, which is 55 percent, or 110 proof; and yellow, which is 40 percent, or 80 proof. The color is vivid, the flavor is sweet and verdant, and the longer it sits in the bottle, the better this stunning, strong alcohol gets. It features in quite a few out-of-this-world cocktails, although sometimes a drink only needs a few drops to get the full effect.
The Last Word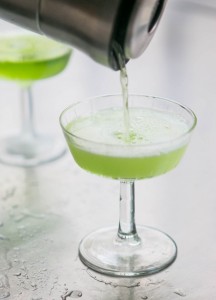 The Last Word is probably the most famous Chartreuse-based cocktail. It's sort of magical, to be honest. Since it's relatively old-fashioned, it has a vintage vibe to it, i.e. you can comfortably order this at the local hipster speakeasy and impress everybody there. If the ingredients make it seem sweet, never fear—the Chartreuse itself is a beautiful balancing agent. Its heady green notes calm the sweetness of the maraschino.
Recipe:
¾ of an ounce of gin
¾ of an ounce of green Chartreuse
¾ of an ounce of maraschino liqueur
¾ of an ounce of fresh lime juice
Twist of lime to garnish
Combine all of the ingredients—minus the garnish—in a cocktail shaker filled with ice. Shake until chilled, then strain the mixture into either a coupe or a martini glass. Add the lime twist to garnish.
The Greenpoint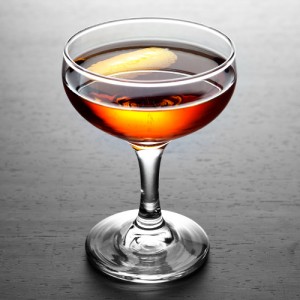 This cocktail riffs on the Manhattan. Famed New York City Bar, Milk & Honey, is the home of the first Greenpoint, which got its name via Michael McIlroy. It's a whiskey drink with an incredible aroma—you'll smell it before it even arrives at the table. Trust, after the Greenpoint, you'll likely never want another Manhattan again. It's just so basic next to this aromatic update.
Recipe:
2 ounces of rye whiskey
1 ounce of Punt e Mes vermouth
1 teaspoon of yellow Chartreuse
1 dash of Angostura bitters
Fill a cocktail shaker with ice. Add all of the ingredients and shake or stir until chilled. After that, strain the mixture into a champagne coupe.
The Chartreuse Smash
Do you like your drinks a little sweet but not overly saccharine? Then order a Chartreuse Smash the next time you belly up to the bar. It's the perfect vehicle for the verdant flavor and aroma of a quality Chartreuse. In fact, it's even converted skeptics who weren't entirely sure about drinking green liqueur.
Recipe:
1 ounce of lemon juice
2 teaspoons of turbinado sugar
2 ounces of green Chartreuse
10 mint leaves
1 sprig of mint for the garnish
Muddle the mint leaves, sugar, and lemon in your cocktail shaker, then add in the Chartreuse and fill it up with ice. Shake until chilled, then strain the drink into a glass full of crushed ice. Use the sprig of mint as garnish.
The Frosty Mule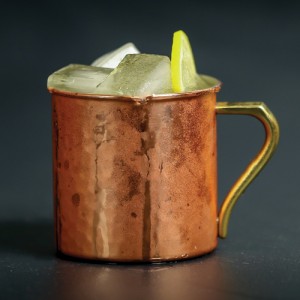 This is a spicy, refreshing update to the classic Moscow Mule. Don't worry; you still get all the traditional components. However, a little Chartreuse really changes the entire attitude of the drink. Just be careful because this mule kicks hard.
Recipe:
Club soda
¾ of an ounce of fresh lemon juice
¾ of an ounce of ginger simple syrup
¼ of an ounce of yellow Chartreuse
2 ounces of Absolut Vodka
Add everything except the soda to your cocktail shaker, then fill it with ice. Shake until chilled, then strain the drink into a copper mug full of ice. Top it off with the club soda and garnish it with a lemon wheel.
As you can see, you don't need much Chartreuse to create a mind-numbing drink. There's no reason you can't experiment with a few of your favorite cocktails, either. Have you ever made a drink that contains Chartreuse?