Fall Drinks that Don't Involve Pumpkin

With the fall season in full effect, we are swarmed with lots of fall inspired drinks, all of which involve pumpkin.  Pumpkin beer, pumpkin spice latte, pumpkin this, pumpkin that…
What if we told you that it is possible to indulge in choice beverages that don't involve pumpkin!  Crazy, right?!  Well, here's a list of a few delicious beverages (all of which you can buy your supplies from us at beerrightnow.com) that you can enjoy sans the pumpkin spice flavoring.  If you want more, comment!  We'll post more recipes!  Sorry, Mr. Jack O. Lantern.
1) Honeycrisp Sangria
Ingredients:
3 cinnamon sticks (plus more for garnish)
2 honeycrisp apples, chopped
1 orange, thinly sliced
1 (750 ml) bottle red wine (I suggest a light-bodied Spanish variety)
1 and 3/4 cups apple cider
1/2 cup brandy
1/4 cup orange juice (or juice from 2 medium oranges)
juice from 1 lemon
club soda, to taste
Directions:
Place the cinnamon sticks, apples, and orange slices in a large pitcher. Add wine, apple cider, brandy, orange juice, and lemon juice. Allow to sit in the refrigerator for 6 – 24 hours. Taste; if you'd like it to be sweeter, add 1-2 Tablespoons granulated sugar, honey, or agave.
If you'd like a cinnamon-sugar rim (highly recommended), simply moisten the rim of your glasses with water, turn the glass upside down and dip it into a mix of cinnamon and sugar. Pour in the sangria with fruit2 and add a splash of club soda (this unsweetened fizz is wonderful with the sangria!). Garnish with a cinnamon stick, if desired. Cheers!
Make ahead tip: Sangria is the perfect make-ahead cocktail since it must sit for at least 6 hours. You can also make it one day in advance.
2) Warm Apple Pie Cocktail
INGREDIENTS
1 1/2 qts. light apple juice
3 cinnamon sticks (2 1/2 in. long)
12 whole cloves
6 whole allspice
1 1/2 cups spiced rum
sweetened whipped cream
INSTRUCTIONS
Combine apple juice and whole spices in a saucepan and bring to a simmer
Remove from heat and let sit 30 minutes
To serve, reheat juice, then strain into heatproof mugs, dividing evenly
Add 1/4 cup rum to each and top with whipped cream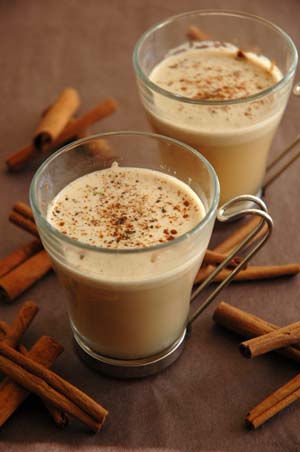 3) Hot Buttered Rum (personal fave)
INGREDIENTS
2 cups water
1/2 stick (1/4 cup) unsalted butter
1/4 cup packed dark brown sugar
1 teaspoon cinnamon
1/2 teaspoon freshly grated nutmeg
1/4 teaspoon ground cloves
1/8 teaspoon salt
2/3 cup dark rum
PREPARATION
Bring water, butter, brown sugar, cinnamon, nutmeg, cloves, and salt to a boil in a 1 1/2- to 2-quart saucepan over moderately high heat. Reduce heat and simmer, whisking occasionally, 10 minutes. Remove from heat and stir in rum. Serve hot.
4) Apple Cider Margarita
ingredients:
1 ounce Grand Marnier
1 ounce gold tequila
5-6 ounces sweet apple cider
orange segments and apple slices
cinnamon + cane sugar + coarse sugar for glass rimming
cinnamon sticks for garnish
directions:
Add a few spoonfuls of cane sugar, coarse sugar and cinnamon to a plate. Run an orange segment around the edge of the glass, then press into the cinnamon sugar mixture to coat the rim. Add a few orange slices in the bottom of the glass, fill with ice, then add the Grand Marnier, tequila and apple cider and stir to mix. Garnish with apple slices and cinnamon sticks. Enjoy!
Note: As a rule, I generally prefer silver tequila in my margaritas, but the gold here really gives a "warmth" that matches the cider and cinnamon perfectly.
There you have it, folks!  It IS possible to have a great NON-PUMPKIN drink on a cool fall day.  Try one or ALL of the recipes!  See you at beerrightnow.com!  Cheers!