Gotta Catch 'Em All: These Pokémon Drinks Are the Ones to Catch …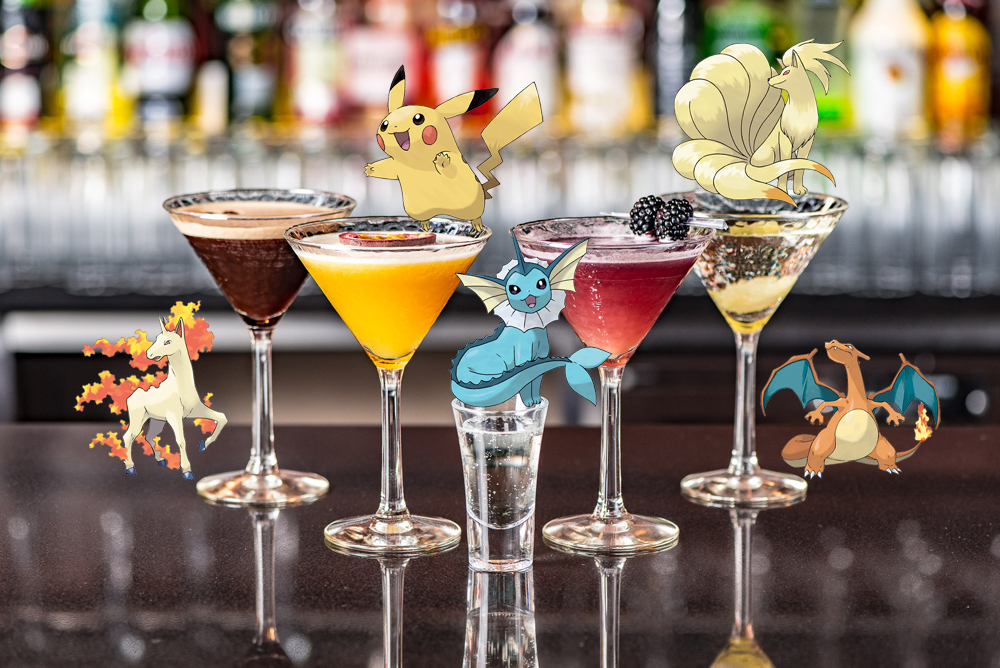 Pokémon is one of the most popular games in the world. Instantly, whenever I think of Pokémon, it brings me back to my childhood, where I was running around catching them all. Thanks to the release of Pokémon Go, the craze is back – and this time, we get to enjoy the game as adults! That means adding booze, lots of booze! But seriously, if you're a fan of Pokémon and spirits, then let us introduce you to a whole new class of cocktails.
This Is One Boozy Bell-Sprout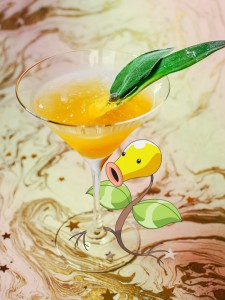 There's definitely something compelling about this bright yellow concoction. It's like a ray of sunshine concentrated down into a cocktail. It's fresh – clearly, just look at the ingredients – and thanks to the sage, it has an extremely herbal flavor. At the very least, it gives you the illusion that you're drinking something healthy when you're really just downing a Pokéball's worth of tequila.
Recipe:
60 milliliters of Blue Nectar Reposado Special Craft Tequila
3 tablespoons of crushed pineapple
15 milliliters of lemon juice
20 milliliters of agave nectar
One sage leaf
Fill your cocktail shaker with ice, pour in all the liquids, then shake until chilled. Fill a glass with crushed ice and strain the mixture over it. Use the sage leaf and pineapple chunks as garnish.
How to Get Bulbasaur Lit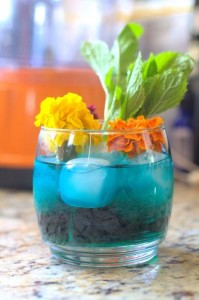 The Bulbasaur Cocktail is some next level ish. Seriously, the presentation is just tops – not only is it gorgeous, but there's something about it that puts you in mind of Bulbasaur. Even if that little dude isn't your favorite Pokémon, this will definitely be your favorite Poké-cocktail.
Recipe:
1 part melon liqueur
1 part Malibu Rum
1 part blue curacao
3 edible flowers
2 sprigs of mint
Fill a glass with ice, then pour in the melon liqueur, the rum, and the blue curacao, in that order. Garnish with the mint sprigs and the edible flowers.
Never Gulp Down the Golden Goldeen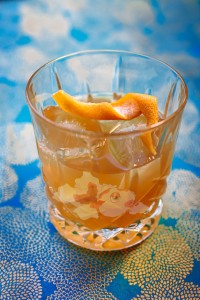 Goldeen is kind of fierce, you know? Just look at that stare. It's no wonder that this glamorous Pokémon inspired a glitzy drink. It's probably the only classy cocktail you'll find that has its roots in Pokémon culture, and it's not just classy because of the color. The ingredients list is pretty opulent, as well. Don't worry about the cordial – the bitters will balance the sweetness.
Recipe:
40 milliliters of Diplomático Reserva Exclusiva
15 milliliters of grapefruit cordial
15 milliliters of Cocchi Americano
Two dashes of Angostura bitters
Fill a large glass with ice. Pour in all the ingredients – that's it. You can garnish it with a lovely twist of grapefruit zest for some extra pizzazz if you like.
The Poliwag Martini: Swirled, Not Stirred
So, the Poliwag Martini is strong – as in, don't drink more than two of these and try to play Pokémon Go or you'll probably end up in the middle of a pond looking for Goldeen up there. Mind-numbing, world-spinning strength aside, this is actually a damn good martini. There's something about that Elderflower liqueur – it makes this cocktail.
Recipe:
15 milliliters of gin
15 milliliters of St-Germain Elderflower Liqueur
15 milliliters of Lillet Blanc
20 milliliters lemon
A bit of egg white
Blueberries for garnish
Grab a Boston shaker, add all the ingredients except the blueberries, and shimmy. Strain the drink into your martini glass, then garnish it with the blueberries.
In the spirit of Pokémon, you know you gotta drink 'em all, right? If you're a true Poké master, then this is basically required. It's your birthright.