Harry Potter Cocktails That Are Oh-So-Magical …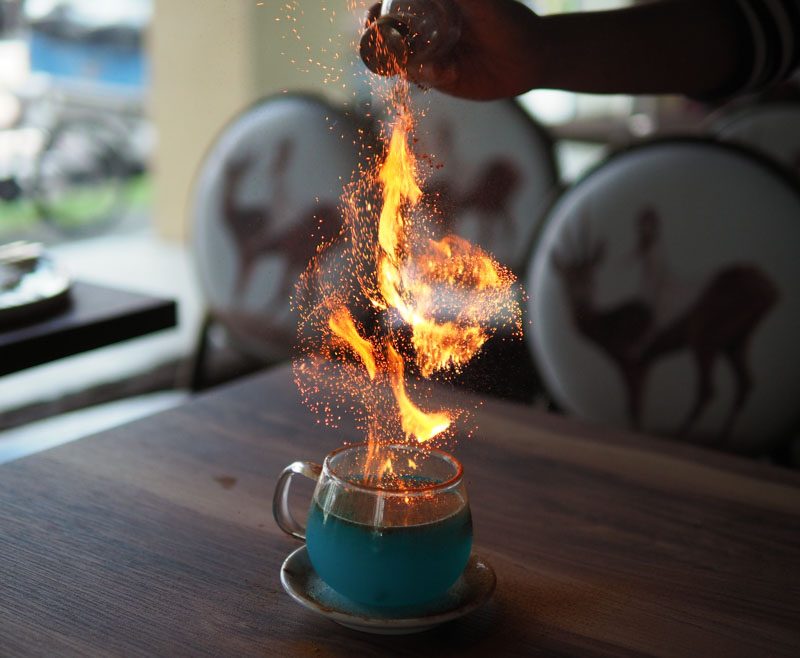 If you are a Potter-head are throwing one of those awesome Harry Potter themed parties, you've got to carry that theme through your drinks. Cocktails are an essential part of a party, and these Harry Potter theme cocktails are not only delicious, but they will transport you directly to Hogwarts in no time!
1. Polyjuice cocktail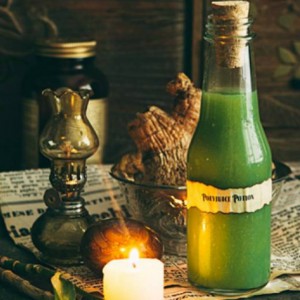 For those of you that have seen the movie or read the books, don't worry, we didn't use any hair in this drink! It is delicious, even Harry would want more and more of this drink.
Recipe:
1 cup orange juice (without pulp)
3 tbsp sweetened ginger tea concentrate (recipe below)
2 halved peach slices (canned)
½ cup Sprite
1 drop blue food coloring
4 tbsp vodka
2 ginger tea bags
1 cup hot water
2 tbsp honey
Instructions:
Steep bags of ginger tea in hot water for 10 minutes, add in the honey and then, place the orange juice, peaches, and sweetened ginger tea concentrate in a blender.  After you blend everything with ice, that's when you are going to add the vodka, Spirt and then a little blue food coloring.
2. Unicorn blood cocktail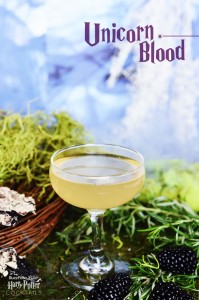 You don't have to kill a unicorn to see its blood; you can instead drink it! This drink is so delicious, and there were no actual unicorns harmed in its creation. Scouts honor.
Recipe:
1.5 oz silver tequila
1.5 oz St. Germain (elderflower liqueur)
1 oz lemon juice
Combine everything in a shaker with ice, strain into a glass, and you got the best cocktail out there!
3. Wolfsbane potion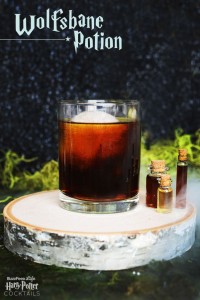 While there is no cure for becoming a werewolf, Professor Lupin does approve of this particular drink. Not only is it tasty but it is not for the faint of heart. Like scotch whiskey? This is the best drink for you!
Recipe:
1.5 oz Scotch whiskey
1.5 oz Fernet-Branca
Coca-Cola
Put the scotch and Fernet into a shaker with ice, shake it on up and then strain into a glass with one large ice cube. How magical does that sound?
4. Butterbeer
No Harry Potter drink list would be complete without the fantastic butterbeer drink. For this drink, you won't need much and it's so delish.
Recipe:
1 – 2 oz. butterscotch schnapps, depending on how sweet you prefer.
2 oz. whipped cream flavored vodka
6 oz. cream soda
1 large spoonful marshmallow fluff
In a tumbler, you'll just want to mix up the liquor, cream soda and ice. Strain that into a chilled class of your choice and then whip up the fluff and the butterscotch schnapps together and top off your drink!
5. Hog Head Pub's fire whisky
Harry got his first taste of this drink in The Deathly Hallows in memory of Mad-Eye Moody. This cocktail is something that you need when courage is needed but if you want it suitable for a party? Mix it with a little ginger ale; it'll temper the taste down a little bit.
Recipe:
1 oof whiskey
1/2 oz of cinnamon schnapps
Splash of 151 rum
So, all you little wizards out there, while you are still waiting on your Hogwarts acceptance letter, don't worry, these cocktails will get you through it! Do you have any more concoctions that you've created? Share them!