Here's What the Cool Kids Are Drinking on Spring Break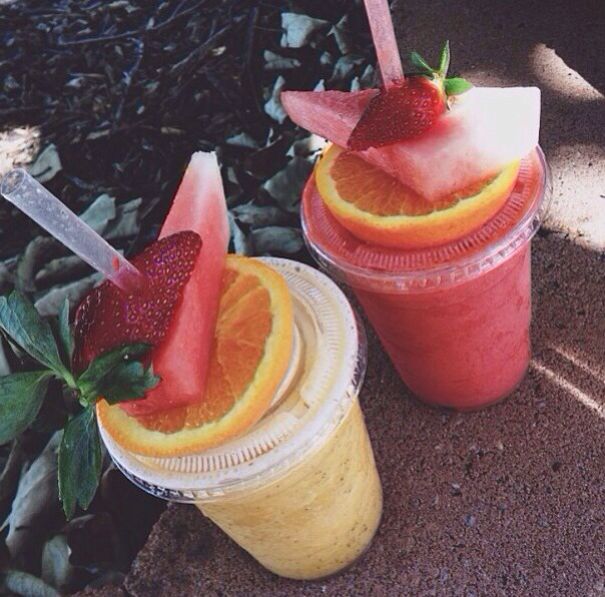 Spring break is coming. Where are you heading? Ft. Lauderdale, South Padre Island, Cancun … there are so many destinations, and they all have one thing in common: soon, a never-ending throng of college kids will descend upon them, and they'll all be drinking something. In preparation, we've got the 411 on what all of the cool kids will be ordering during their holiday. We want you to rule spring break.
The Margarita and Any Variations Thereof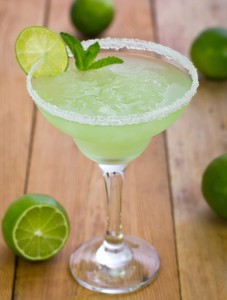 There's a reason margaritas are popular at tropical resorts and spring break hotspots. For one thing, they're delicious. For another, they're classic. For yet another, margaritas are potent. You can get ripped without even realizing that you're well past the point of tipsy. There's nothing like sipping at a salty rim under the heat of the sun, especially when you know everybody back home's drowning in the rain or buried beneath the snow.
Recipe:
1 ounce of Cointreau, triple sec, or any other orange liqueur
1 ½ ounces of Blanco tequila
¾ of an ounce of freshly squeezed lime juice
Kosher salt
Fill your cocktail shaker with ice, then add everything but the salt and shake vigorously. Chill a rocks glass, rim it with salt, then add ice and strain the mixture into it. Garnish with a wheel of lime.
The Strawberry Sunrise
Anything with tequila goes over big during spring break, no matter where you happen to be partying down at the time. Tequila, after all, is the patron drink of bad decisions. This is a fun, refreshing take on the traditional tequila sunrise, though, mostly thanks to all the strawberries—they really make a difference. They also help to create a truly beautiful drink, and today's spring breakers like to Instagram their spirits before slamming them.
Recipe:
4 ounces of freshly squeezed orange juice
3 ounces of fresh, sliced strawberries
2 ounces of tequila
1 ounce of agave syrup
1 teaspoon of Grand Marnier
A dash of freshly squeezed lemon juice
An orange wheel for garnish
A fresh strawberry for garnish
A sprig of mint for garnish
Place the OJ and strawberries in your blender, then pulse them until they're pureed. Strain the mixture into your cocktail shaker, then add tequila, the agave syrup, and ice. Shake until the shaker gets frosty. Pour into a glass, add a dash of lemon juice, then place your garnish.
The Raspberry Mojito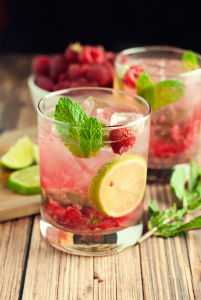 The mojito's popularity doesn't seem to be in danger of fading anytime soon. People love this fresh, minty concoction, so it's no surprise that alternate versions abound. The spring break crowd is partial to this variation, and so are we. In fact, if you enjoy mojitos and raspberries, then it's entirely probably that you'll never again order another regular mojito.
Recipe:
1 ounce of raspberry vodka
1 ounce of silver rum
½ of an ounce of simple syrup
½ of an ounce of freshly squeezed lime juice
4 fresh mint leaves
4 fresh raspberries
2 ounces of club soda
Ice
In your cocktail shaker, muddle together the mint, raspberries, syrup, and lime juice. Add ice, then pour in the rum and vodka. Shake vigorously, then pour the drink into a Tom Collins glass and top it off with the club soda.
The Hurricane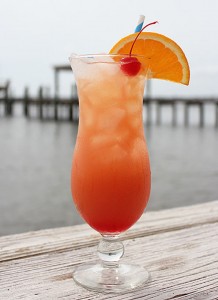 The Hurricane really is a hurricane. It's like a not-quite-natural-disaster in a glass, which explains why students on spring break are fond of it. It's sweet, tasty, and refreshing, but it will get you lit like nobody's business. It's the perfect poolside cocktail, and it doesn't hurt that it's pretty.
Recipe:
2 ounces of white rum
2 ounces of dark rum
1 ounce of freshly squeezed lime juice
1 ounce of freshly squeezed orange juice
1 ounce of fresh passion fruit juice
½ of an ounce of simple syrup
½ of an ounce of grenadine
1 orange wheel for garnish
1 cherry for garnish
Fill your cocktail shaker with ice, then add everything except the fruit. Shake hard, then strain the drink into a Hurricane glass, which you should fill with ice. Garnish with the orange and cherry, then enjoy.
What's your favorite cocktail to sip on spring break? Lots of you crazy kids prefer beer, but we like our drinks with fruit and umbrellas.