How to Drink in Amsterdam without Dying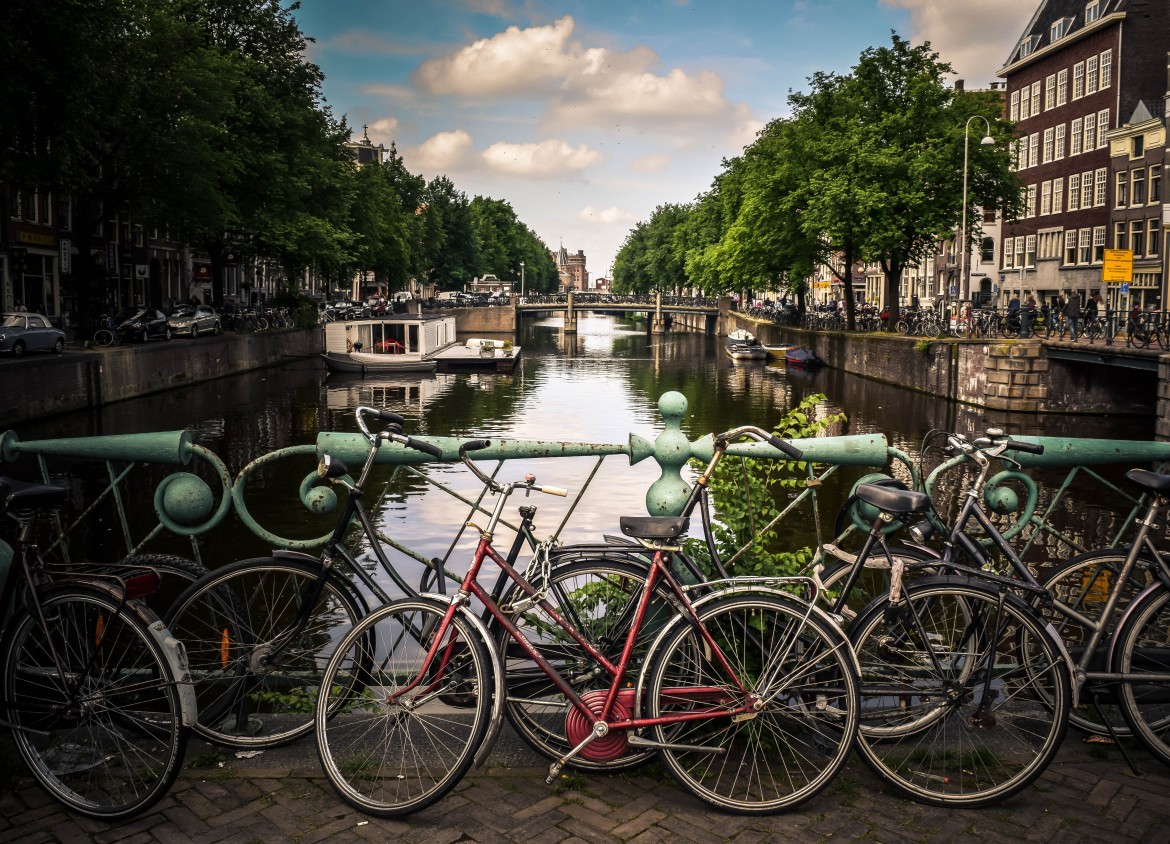 Amsterdam is the partier's dream. No marijuana restrictions, plenty of bars and pubs and the city is open all night. Because of its drug tourism, Amsterdam has also seen a lot of tourists go a bit too hard, and end up not faring too well the next day. Here is some general advice on how to party in Amsterdam without dying.
Don't mix stuff.
This is true for anytime you're drinking but in Amsterdam it can be very tempting to try everything in the world at once. With so many things to try, its common for people to start with cocktails and then wander into a coffee shop or truffle store and get a little more twisted than they can handle. If you're not a veteran smoker, try it on its own without the drink first to see how you react. You can always drink when your high has worn off.
Watch for bikes.
If you're coming from a place where most people drive cars, you may not be used to people shooting by you on bicycles at all hours of the day and night. In Amsterdam, the bike lanes get just as crowded as the car lanes and are right next to the sidewalk. If you're not careful, you can easily stumble in front of someone's bike which would be a tragedy for both you and the rider. Keep an eye out and stay on the sidewalk where others are walking. At crosswalks, look for bikes before you walk.
Don't take drinks from strangers.
Most people in Amsterdam are well-meaning locals and tourists just looking to have a good time. But, like any city, there are people looking to prey on unsuspecting partiers. Its generally a good rule never to take accept drinks from strangers. If someone wants to buy you a cocktail, make sure its coming directly from the bartender. If you feel stranger that usual from a few drinks, seek medical help to be sure nothing was dropped in without you knowing.
Careful with balloons.
Nitrous balloons are legal in Amsterdam. If you're not familiar with this, it's a balloon filled with nitrous gas that you inhale and go on a little trip. It only lasts a few seconds but is not very good for your brain or general health. Many bars sell balloons as well as sketchy street salesman- but I wouldn't recommend trying it if you've had a few drinks. Inhaling the gas affects people differently and can sometimes cause seizures or loss of consciousness. Drinking in addition to nitrous can be especially harmful if you're not sure how it will affect you.
Overall, Amsterdam is a safe, fun city with lots to do and drink. Taking common sense precautions will ensure you have a fun time drinking without dying.
Tagged under:
#beerdelivery
,
amsterdam
,
beer
,
cocktail
,
cocktails
,
day drinking
,
drinking
,
drinking amsterdam
,
drinks
,
eurotrip
,
haveadrink
,
how to
,
nightlife
,
travel