If You Like Day Drinking, You'll Love these Daytime-Friendly Cocktails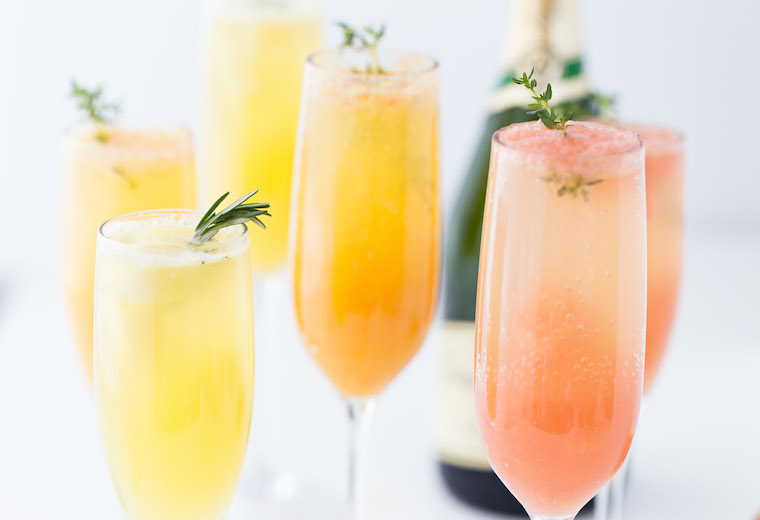 The weather's finally warming up, which means that restaurants, pubs, and neighborhood bars are busy. They're pulling out their patio furniture, popping open their umbrellas, and preparing for the incoming rush of day drinking enthusiasts eager to booze up their sunny weekend afternoons. You and your friends are probably doing the same—uncovering the comfortable furniture on your back porch, hauling out the fire pit, and preparing yourself for sunny, lazy days. Well, you can't drink during the day if you don't have a stellar daytime drink, and these cocktails are fancy enough to keep people from questioning your relationship with the spirits.
The Cucumber Cooler Cocktail Keeps You Chill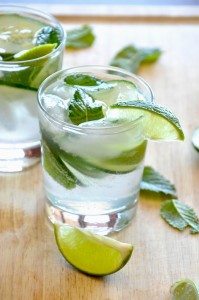 Cucumber is always a good idea, especially in the spring and summer. That's why spas serve cucumber water—not only does it taste refreshing, but it helps to keep you hydrated, too. See why this is the perfect day drinking cocktail? You get buzzed, but you're also getting some hydration in there, which significantly decreases the risk that you'll end up camped out in front of the TV at 5 o'clock in the evening, hungover and watching HGTV in the dark.
Recipe:
1 ½ ounces of gin
4-6 cucumber slices
¼ of a lime, sliced
4 ounces of tonic water
6 mint leaves
1 tablespoon of sugar, optional
Place the gin, lime, mint, and sugar in your shaker, then muddle. Add the cucumber slices and shake hard. Fill a glass with ice and pour in the mixture, then top it off with the tonic water. Stir it, give the flavors a few moments to sit, then drink.
The Bourbon Cherry Cooler Is Cherry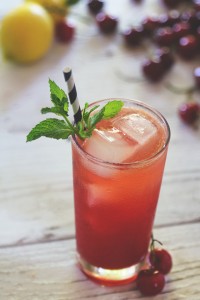 Anything with cherries is a winner. Granted, you can basically use any kind of fruit, but if the combination of cherries and bourbon doesn't do it for you … well, what's the matter with you? Seriously, though, this drink will likely put you in mind of a slow-moving Savannah morning, even if you live in New England.
Recipe:
2 ounces of bourbon
½ of an ounce of Aperol
1 ounce of lemon juice
¾ of an ounce of simple syrup (just mix equal parts water and sugar)
2 ounces of sparkling water
8 cherries, pitted
Place the cherries in a cocktail shaker, along with the syrup, then muddle until you've crushed the cherries. Pour in the bourbon, Aperol, and lemon juice, then fill the shaker with some ice and shake vigorously. Fill a glass with ice, then strain in the mixture and top it off with the water.
Grapefruit Mimosas Are Sort Of Like Breakfast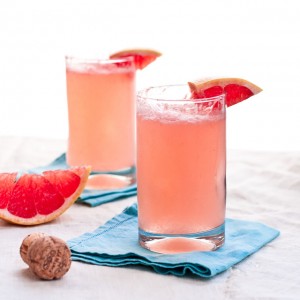 Mimosas are a traditional day drink anyway. Specifically, they're largely considered the ideal brunch drink. Add grapefruit, however, and they're almost healthy. Grapefruit, in fact, practically turns mimosas into breakfast. If you think that's a stretch, just drink one or two of these and we bet you'll change your mind.
Recipe:
1 chilled bottle of Prosecco
3-3 ½ cups of chilled, freshly squeezed grapefruit juice
Simple syrup or sweetener, optional
Get a big pitcher, pour in the Prosecco, then pour in the grapefruit juice. Stir, taste to see if it needs sweetener—the grapefruit can get a bit bitter—and serve when you're happy.
The White Thyme Stops Time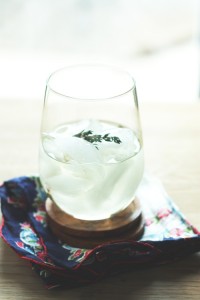 This drink is next level classy. Seriously, if you ever want to impress somebody with whom you're out day drinking, order this—or make it, whatever. You might have to explain it to the bartender, but whatever, it's worth it. Not only is it impressive and neat-looking, it also tastes divine, especially if you're into hipster-ish kinds of cocktails.
Recipe:
3 ounces of your favorite white wine
3 tablespoons of wildflower honey
3 sprigs of thyme
1 tablespoon of lemon juice
3 dashes of Angostura bitters
Muddle together the honey, thyme, and lemon juice in your shaker, then add the wine and bitters. Stir until the flavors, especially the honey, are totally incorporated, then strain into a glass filled with ice.
Maybe next time we'll delve into day drinks that use beer as their base—what do you say? In the meantime, tell us how you like to booze it up in the daytime. We're always up for trying new cocktails.