Irish Drinks to Try to Celebrate St. Patty's Day …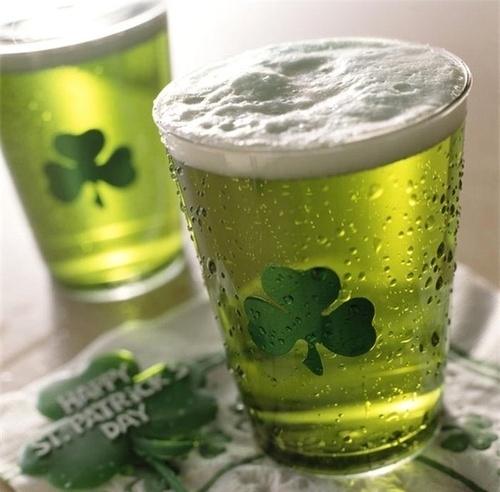 St. Patrick's Day is quickly coming upon us, meaning that there's still time to boost your constitution in preparation for an entire day of revelry, celebration, and booze. Since everyone is Irish on March 17, it's only right to spend the holiday drinking Irish-themed concoctions. From cocktails greener than the Emerald Isle to potent drinks featuring Ireland's finest whiskey, take a second to find your signature St. Patty's Day drink. In the interest of keeping things fresh and unexpected, you won't find any Irish coffees on this list—but there might be a car bomb.
The Irish Flag
The Irish Flag is a gorgeous drink. If you've never had one, think about ordering your first this year. The odds are phenomenal that within an hour, the entire bar will be downing these shooters. The secret behind this proud cocktail is the layering, naturally. Done correctly, the drink's green, orange, and white layers evoke the Irish flag. It's on the sweeter side, but after two or three, you stop noticing.
Recipe:
1/3 of a shot of crème de menthe
1/3 of a shot of Licor 43
1/3 of a shot of Irish cream
In exactly that order, pour in the crème de menthe, the Licor 43, and the Irish cream. Pour carefully so each layer remains distinct. Voila!
The Gold Emerald Shooter
https://cdn.cpnscdn.com/static/blog/2015/03/Gold-Emerald-Shooter.jpg
If you can't wear something green on St. Patrick's Day, you might as well drink something vibrantly verdant, right? It's a spicy, sweet shooter with its own unique flavor. Its appearance is out of this world, too. The green is ideal for the holiday, obviously, but the addition of Goldschläger gives it some glam.
Recipe:
½ an ounce of vodka
½ an ounce of Goldschläger
½ an ounce of Midori
Fill up your cocktail shaker with ice, then pour in the vodka, Goldschläger, and Midori. Shake it like a Polaroid picture, then strain it into a shot glass and serve.
The Irish Hammer
Here's another sweet treat for everyone's favorite rowdy holiday. It celebrates all things Irish, so you can forgive the sweetness, which isn't overwhelming, anyway. Bartenders and connoisseurs of this lovely concoction stress the importance of the Irish cream you choose, not because there's an incorrect brand but because each one brings different notes to the cocktail. For example, Bailey's allows the other flavors to shine, while Carolans, for example, gives the drink a distinct caramel note.
Recipe:
1 part Jack Daniel's
1 part Irish Mist
1 part Irish cream
Put ice in your cocktail shaker, then pour in the whiskey, Irish Mist, and Irish cream. Shake the mixture until it's perfectly chilled, then strain it into a glass.
Irish Car Bomb
Oh, yeah. Yeah, we're going there. It's St. Patrick's Day, how can you pass up an Irish Car Bomb? It's popular on St. Patty's Day because of the name, obviously, but it's also a sort of blue collar cocktail, if you will, a classic stout-and-shot. The only thing is, you have to down these suckers pretty speedily. Wait too long and the cocktail curdles, which doesn't exactly look delicious.
Recipe:
¾ pine of Guinness stout
½ shot of Bailey's Irish Cream
½ shot of Jameson Irish Whiskey
Grab a shot glass and pour in the Irish cream, then pour in the whiskey. Grab a beer mug, too, and pour in the Guinness. After the foam settles, drop the shot into the mug and drink, drink, drink!
The Pot O' Gold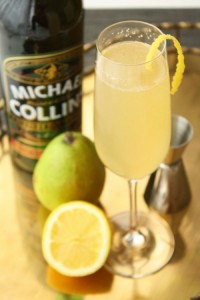 Even if you don't find the end of the rainbow on St. Patrick's Day, you can still celebrate with a pot of gold. There are dozens of recipes for drinks called Pot o' Gold, by the way, so you can take your pick. This one's light and unpretentious, but it is a sweeter drink.
Recipe:
2 parts Jim Beam Honey
1 part DeKuyper Melon
Light Beer
Fill a beer mug or stout glass with ice. In order, pour in the Jim Beam and the DeKuyper, then top it off with the light beer. For a citrus note, garnish it with half an orange slice.
Feel free to end the holiday with a warm Irish coffee, but don't make that your go-to drink during the evening's revelry. Play around with different cocktails and flavors—why not? Of course, you can't go wrong with green beer, either. What's in your glass when you raise a toast to the Emerald Isle on St. Patrick's Day?