The "Original" and "Official" Beer Pong Rules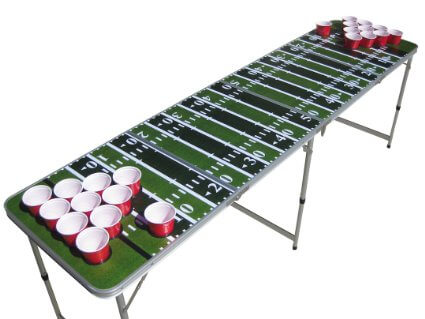 Beer Pong: The Classic College Drinking Game that we all remember…or don't remember partaking in.  Whether you're 21 or 45, Beer Pong is one of those tried and true classic drinking games that just never seems to get old.  I mean come on, they even have beer pong-esque type games at arcades!  Exhibit A:
Now that we have established that it is ok to love the game, it's time to determine the rules for laying it!  The real question is: which rules do you go by, the "original" or the "official" rules?
The Original: Originally, beer pong was just played by people who wanted to combine drinking and playing.  You simply line up ten cups on a ping pong table in the formation of bowling pins and take turns throwing a ping pong ball into each one.  The use of paddles is optional.  If the other player lands a ball in one of your cups, you must immediately chug the cup and remove it.  This is the easy way to go.  But you guys order beer online, easy is SOOOO last year!  Let's take a look at the official rules.  Brace yourself, they're quite…official.
Shooting and Table Sides
In prelims, first possession will be determined by random selection. Each team will receive a printed schedule which will indicate which team has choice of first shot. Table side will be pre-determined, and will appear on each team's schedule.
On day three, possession and table side will be chosen by the team with the superior rank in prelims. In the event of a tie (two teams with the same win-loss record and Cup Differential Per Game), a coin toss will determine who chooses to shoot.
The team with first possession will get one (1) shot. Each team will get two (2) shots for each turn thereafter, one shot per team member, subject to any other rules below.
Reformation
Cups must be reformed at 6, 3, and 1 cups remaining according to the diagram below:

Racks must be aligned to the center of the table. When one cup is remaining, the cup should always be pulled back to within an inch of the end of the table, and it should be placed in the center of the table.
Cups that drift out of position may be reformed, but only if the thrower requests.
Reformation is to take place as soon as it is applicable, even in the middle of a turn (i.e. mid-turn reracks).
Cups should be removed as soon as they are hit, even in the case where a reformation is not needed. It is the responsibility of the shooting team to wait until a hit cup is removed to take their next shot. If a team shoots while the opposing team is reforming or in the process of removing a cup from the table, and the ball goes in the cup after making contact with the defending teams hand(s), the shot will count as a miss. If a shooter hits a cup that has already been hit, it will also count as a miss.
If a team mistakenly shoots when a reform should have occurred, they have the right to ask for a reform after the fact. If a cup has been hit, and the shooting team then asks for a reform, the defending team gets to choose which cup gets removed from the reformed rack.
There are actually a LOT more rules, but we don't want you to get so overwhelmed you choke on your beer.  Also, ironically enough, official beer pong is actually played with…wait for it…WATER!  Yeah, so for the sake of your sanity..and our business…we suggest that for future reference, you stick to the original rules.  

 Cheers!