Raw Egg Cocktails That Will Blow Your Mind …
If the idea of drinking a raw egg in your cocktail doesn't please your palate, you're not alone. The truth is that raw egg cocktails aren't that bad, though. In fact, some of them are surprisingly delicious. It might put your mind at ease to know that the acid citrus juices included in most recipes combined with the alcohol mixed in all recipes work together to "cook" the egg—but not literally. We promise you'll genuinely enjoy these. Well … maybe not the Prairie Oyster.
1. Pisco Sour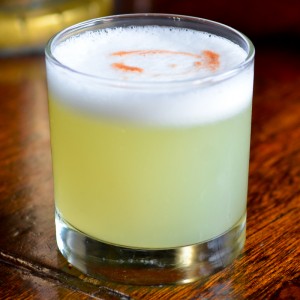 The Pisco Sour is a classic South American cocktail, but it specifically originated in Peru. It's one of those drinks that perfectly displays both the art and science of mixology. Put aside any skepticism about the idea of drinking raw eggs because, honestly, it's just an egg white. The look of the cocktail depends on that egg white, though—you're basically turning it into meringue, just to get the foam for the top layer.
Recipe:
3 ounces of pisco
1 ounce of freshly squeezed lime juice
¾ of an ounce of simple syrup
1 egg white
1 dash of Angostura bitters
Place everything except the bitters in your cocktail shaker and then shake it to death. Seriously, shake the crap out of your cocktail shaker. You have to stretch, mix, scramble, and ultimately aerate the egg white proteins. Now, add ice to your shaker and—yep–shake it all again. When you're finally ready to strain it, grab an Old Fashioned glass and pour. You'll know you did it correctly if there's foam topping the drink. Throw on a dash of bitters and serve.
2. Prairie Oyster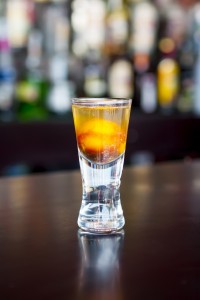 The Prairie Oyster cocktail is not for the faint of heart. Fans of the drink claim that it's the best hangover cure in the world, though. We guess it works around the old "hair of the dog" premise, or maybe the egg does something. We don't know because we will never drink this. However, we're eager to hear about the experiences of anyone who's survived this spicy, savory, eggy concoction.
Ingredients:
1 entire egg, the yolk and the white
1 ounce of vodka
2 dashes of vinegar
1 teaspoon of Worcestershire sauce
1 teaspoon of ketchup
2 dashes of Tabasco sauce
Pinch of salt and pepper
Crack the egg into your glass, being careful to keep the yolk intact. Pour in the rest of the ingredients. Think about your life choices. Down it in one.
3. Clover Club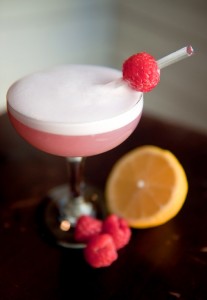 The Clover Club is a precious cocktail. Seriously, it is unbelievably pretty. It's also quite refreshing, mostly thanks to the lemon juice. Once again, you only have to deal with the egg white. This is another drink that requires that foamy meringue effect, so hopefully you're ready to shake.
Recipe:
1 ½ ounces of gin
¼ of an ounce of grenadine
¾ of an ounce of fresh lemon juice
1 egg white
Fill your cocktail shaker with ice, add all of the ingredients, and shake forever—or for around 30 seconds, that'll do for a start. Once you get your foam on, strain the drink into a cocktail glass, preferably chilled. Raspberries are a favorite garnish for the Clover Club, by the way.
4. Ramos Gin Fizz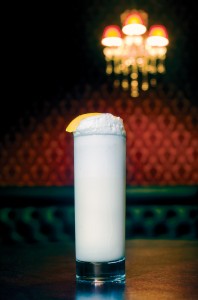 Don't go thinking you know anything about fizz cocktails if you've only had a Gin Fizz. That's small potatoes compared to a Ramos Gin Fizz. Whereas the traditional gin drink is a simple mixture of gin, sugar, and lemon juice, the Ramos is more complicated, more exotic, and maybe even more delicious—it all comes down to personal taste, of course. There are several variations of the cocktail; not all of them require heavy cream, so if you don't have it, don't worry too much.
Recipe:
2 ounces of gin
½ of an ounce of freshly squeezed lemon juice
½ of an ounce of freshly squeezed lime juice
1 egg white
1 ounce of heavy cream
2 teaspoons of superfine sugar
½ of a teaspoon of orange flower water
Club soda, chilled
Ice
Without adding ice to your cocktail shaker, pour in the gin, both citrus juices, the cream, the sugar, the egg white, and the orange flower water. Shake it hard and fast for 15 seconds or so. Stop, add some ice—a handful should suffice—and shake the cocktail shaker again, just as vigorously. Another 15 seconds should do it, but the key is to make sure that the outside of the shaker is frosty. Strain the mixture into a chilled glass—usually a highball glass or a Collins glass, but anything will do—and top it off with the club soda.
5. Round Robin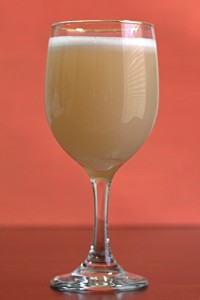 So, in addition to containing an egg white, the Round Robin has absinthe. We warned you. Drink at your own discretion. Fans of this cocktail recommend using Corsair Artisan Red Absinthe if you enjoy floral flavors, but any kind of absinthe you can get your hands on tastes fine. You won't really notice after the first cocktail, anyway.
Recipe:
1 egg white, preferably a large one
1 ounce of absinthe
1 ounce of brandy
1 teaspoon of simple syrup
1 dash of orange bitters
Fill your cocktail shaker with ice, add everything, and shake vigorously. Once the outside of the shaker looks pretty frosty, strain the mixture into a chilled glass.
There. We made it all the way through wit just one egg yolk. Knowing that the lemon juice and alcohol "cook" the egg helps a little, right?