Tips for a Great Concert Experience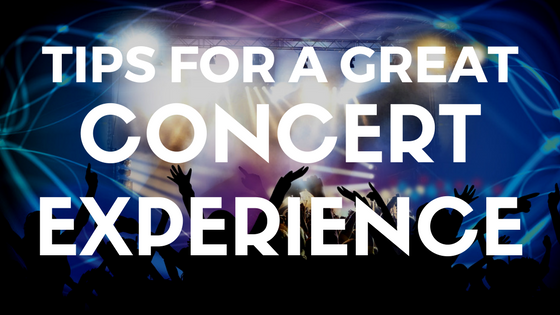 Tips and Tricks to Having a Great Concert Experience
There inevitably comes a point in everyone's life when they're absolute favorite band is playing, and it becomes crucial that this concert experience be the pinnacle of their concert-going experience. But how does one ensure that they don't have that one crazy chick yelling lyrics to their left, or that annoying person who wants to maintain a three-foot radius around themselves, wasting valuable concert real estate? Here are some tips to avoid your typical concert pitfalls.
Tip #1: Loosen up and get hyped with a pregame!
It's easy to get nervous or anxious with a huge crowd of people around you, or listening to a lame opener. Don't be afraid to grab a drink or two while listening to the band's music before heading to the concert to loosen up a bit—but definitely don't overdrink. You don't want to be barred from the concert because you weren't drinking responsibly. And along with alcohol, don't forget to keep drinking water! After screaming all those lyrics and dancing, you will be quite thankful you remembered to hydrate.
Tip #2: When in the GA section, think strategy!
Oftentimes being GA (General Admission) can either be an amazing or really awful experience. The trick here is to map where the bathrooms and bar are, staying as FAR away from both as possible (unless you plan on hitting both up frequently in the middle of the band's sets). Overly drunk people at concerts are never fun, especially when the potential for someone being sick, emotional, or overly loud presents itself. Also, being to the sides will almost guaranteed let you get closer to the stage, and can help you avoid a throng of people crushing you against the front railings. The best thing to do is grab yourself a drink before the opener, and maybe before the main set, just enough for you to enjoy the music to its fullest. Of course, if you're in a seated area, this tip doesn't apply as much.
Tip #3: When in a seated area, think view!
Ideally you'd do this before buying your ticket, but if you're in a seated area, make sure to scope for the best possible view. Sometimes the best concert experience can be had from a seated area, like if the stage is raised or if you aren't really excited to stand for six hours straight. The best thing to do is to look for potential empty seats and see if you can't switch before the headliner starts for a great view, and don't be afraid to ask people and make friends if it involves cramming a few more people than seats in a closer row! The best part about the seated area is guaranteed viewing space, but you might not get the same proximity or energy if you don't look for it!
With these few tips, you can significantly up your concert-going experience! Just remember to stay responsible and have fun with other people who are there—after all, you already know that you share musical tastes, so why not meet some new people and have a great time? Enjoy!