7 Best Summer Beer
Everyone loves a good Corona and lime in the summer, but would you believe that there are beers even more suitable for summer? Whether its a hint of salt, a twist of citrus, or a splash of coconut, these are the beers you'll want to be drinking all summer long.
1. Sixpoint Jammer- This Gose-style beer is sprinkled with sea salt and balanced with citrus. Even the can is decorated in beachy blue waves, making you feel close to the water no matter how far you are from it.
2. Shiner Strawberry Blonde- The combination of fresh strawberries and mix of wheats and malts, makes this beer as smooth as it is crisp. Does anything say summer better than sweet strawberries?
3. Goose Island C.A.L.M Radler- When its hot outside cucumber, lime, and mint are the only flavors you need to cool off. This low ABV beer is refreshing and delicious.
4. 21st Amendment Hell or High Watermelon- This pale wheat beer has a significant taste of watermelon, making it ultra crisp and cool.
5. San Tan Mr. Pineapple- If you really want to feel like you're on a tropical getaway, San Tan Mr. Pineapple has twists of pineapple and a hint of clove. This tropical twist on a white wheat shandy will keep you cool and relaxed all summer long.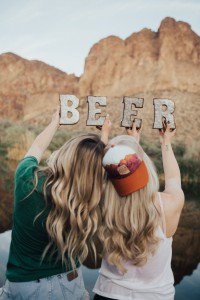 6. Sierra Nevada Summerfest- There's a reason this beer has summer in the name. With a somewhat spicy kick , this Czech-style Pilsner is laced with floral hops for a delicious taste with just enough to take the edge off.
7. Kona Brewing Castaway IPA- Mango, passionfruit, and caramel make this IPA a tropical paradise. Have you ever even imagined a passionfruit flavored beer? Yum!
Try any of these 7 beers to stress less and relax more this summer.