Best Drinks for Camping
Nothing beats a cold beer around a campfire, but beer isn't your only option just because you're spending the weekend outdoors. Whether you're spending time alone or with friends; trying to cozy up to the fire or cooling down, you can make everyone a happy camper with one of these delicious recipes. So pitch the tent, and pour the alcohol!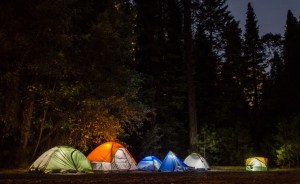 Fireside Sangria
Nothing says outdoors like a delicious sangria with friends. Sangria is easy to make and even easier to take, no matter where your getaway destination might be. Make this tasty cocktail before you embark, and be sure to bring lots to share!
Combine peaches, strawberries, and grapes in mason jar.
Fill the jar with 1/4 vodka, and the rest wine.
Chill overnight.
Pack mason jars, 1 liter of Fresca, and remaining wine for your trip.
To serve: combine Fresca, wine, and fruit in pitcher and serve!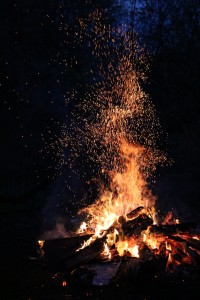 Sunset Rum Punch
Punch is a campsite favorite, especially in the summer- and who doesn't love those starry, summer nights? This punch is easy to make and serves plenty, so go out and enjoy the outdoors with friends!
Combine 1c. Lime juice, 2c. Simple syrup, 3c. Dark rum, and 4c. Orange-pineapple juice.
Add 4 splashes of bitters, a splash of grenadine, and 1/4 tsp. of ground nutmeg
Store in air tight container. Serve when ready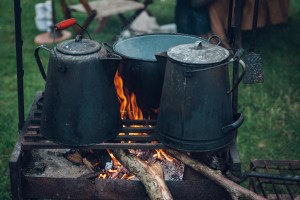 Apres Ski
Sometimes  you need a little extra warming up when the sun goes down. That's why this apres ski cocktail with hints of cinnamon and warm cider is sure to warm you up from the inside out. Heat it easily over a campfire for extra heat!
Combine 2oz French brandy, 2oz Jim Bean Red Stag Honey Tea Bouron, and cider.
Use cinnamon sticks to stir.
Use flame resistant canister to war over fire.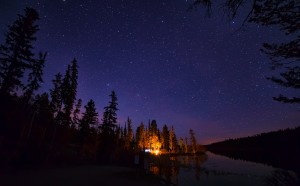 Nutty Irish Manor
Yet another drink to warm you up while you're facing the bitter cold. The nutty Irish manor uses hints of coffee to make you feel right at home, even if you're far from it.
Combine 2oz Franqelico, 2oz Bailey's Irish Cream, and coffee.
Top with whipped cream.