Boozy S'mores
There is something about s'mores and summer that just fit together. However, if it's too hot for a campfire there are other ways to enjoy this delicious combination. Best of all, add a little alcohol and you have a tasty treat that takes the edge off a bit as well. Just don't forget the marshmallows.
Boozy S'mores Marshmallow Shots
Even if you've had plenty of shots in your life, you've never had them like this. These shots are made in marshmallow shot glasses. Yum!
For the shot:
1 part marshmallow vodka
1 part crème de cacao
1 part Bailey's Irish Cream
For the marshmallow shot glass:
Giant marshmallows (the bigger the better)
Graham crackers crumbs
Magic shell chocolate syrup
Hollow out each marshmallow using a cake decorating tip or other round object, until a 'shotglass' shape forms. Let inside of marshmallow dry out. Coat entire marshmallow in chocolate magic shell. Sprinkle on graham cracker crumbs before it hardens. Fill each glass with liquor and enjoy!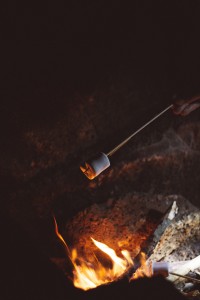 Boozy S'mores Milkshake
S'mores are good, but in the summer, they're hot. A s'mores milkshake is the best way to get the s'mores taste you love, but beat the heat with a refreshing milkshake.
1 1/2

cups

chocolate ice cream

1/2

cup

vanilla ice cream

1

graham cracker, plus extra crushed graham crackers 

2

toasted

marshmallows, plus extra 

1 1/2

ounces

coffee liqueur

1/2

cup

whole mill

2

tablespoons

dark chocolate fudge sauce

honey 

whipped cream, optional
Rim glass with honey then dip in graham crackers. Combine chocolate ice cream, vanilla ice cream, graham cracker, toasted marshmallows, coffee liqueur, milk, and dark chocolate fudge sauce in blender. Blend until smooth. Pour into glass and top with whipped cream, marshmallows, and chocolate pieces.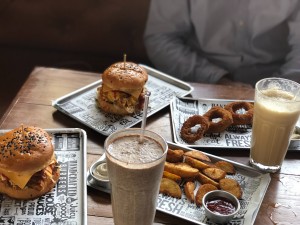 Toasted S'more Martini
If you thought a martini could only be served one way, you've never tried a s'mores martini. This drink is equally as delicious as it is classy. You need:
1

oz.

dark chocolate or milk chocolate godiva liqueur

1/2

oz.

fluffed marshmallow vodka

1/2

oz.

heavy cream

hershey's chocolate syrup & crushed graham cracker for the rim

marshmallows 

small bamboo sticks
Rim the glass in Hershey's syrup then crushed graham cracker. Pour chocolate liqueur slowly over an upside down spoon into the glass. Mix heavy cream and marshmallow vodka in separate glass. Pour vodka mixture over upside down spoon to create layered look. Garnish with marshmallow in a bamboo stick. Brown marshmallow before serving. 
S'mores Pudding Shots
Jell-O shots meet their competition with these s'mores pudding shots. Pudding is nostalgic, takes you back to childhood days, but pudding shots are sure to make you feel grown-up.
1 package chocolate pudding
3/4 c. Milk
1/4 c. Marshmallow vodka
4 oz. Cool whip
5 tbsp. Graham cracker crumbs
1 1/2 Hershey's chocolate bars
Cooking spray
15 large marshmallows
 Combing chocolate pudding mix with milk and whisk to combine. Add vodka and whisk again. Fold in cool whip. Then add 1 tsp. Graham cracker crumbs to the bottom of each glass. Pour into shot glasses and refrigerate until chilled, roughly 1 hour. Enjoy!