Creative Ways to Decorate a Pumpkin Without Carving
There are pumpkins. Everywhere.
They're cute. They're festive, but not everyone loves to carve them. For one, it makes a mess; and two, many people just don't like the feeling of seeds and insides.
If you want to stay in the holiday spirit, but don't want to worry about the mess of carving pumpkins. Try these mess-free pumpkin to-do's this season.
Sticker it.
There's nothing easier and mess-free than a sticker, right?
Use labeling stickers, those colorful dots, to recreate a simple sugar skull. Just don't forget to paint the pumpkin white first. You'll love how simple and festive this easy idea is.
Pom Pom perfection.
Another cute way to decorate a pumpkin is by using those inexpensive, colorful craft pom poms. Scatter them all over the pumpkin and attach with hot glue, for a colorful artistic display. Or use pom poms of one color to create a spooky image like a ghost or full moon.
Mummy made easy.
A mummy is a classic Halloween symbol and oh so easy to recreate. If you've got a pumpkin and you've got toilet paper, then you've got an easy way to decorate this year. Skip the carving and simply wrap that pumpkin. If toilet paper isn't your style, you can also use gauze. Stick some googly eyes on it- voila, your pumpkin is mummified.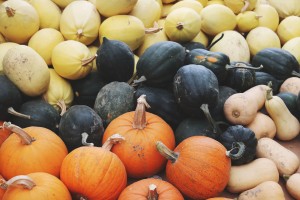 Killer caterpillar.
Here's an idea you might not have thought of this spooky season. Put together a simple pumpkin caterpillar by stacking several mini-pumpkins in a row to create a caterpillar-like appearance. Add some googly eyes to the head and you have a cute, mess-free way to celebrate the holiday.
Paint streaks.
So there might be a little mess with this one, but not nearly as messy as carving the pumpkin itself. Plus, painting is just pure fun for any age. Create chilling paint streaks by letting paint drip from the stem of the pumpkin down. Use a combination of spooky colors such as purple, black, and green, or use blood red for a haunting-looking bloody pumpkin effect.