Kids vs. Adult Table: How to keep your sanity with the whole family
The kids get the gifts so you at least deserve a relaxing meal, right?
Dividing holiday dinner into a kids table an adult table is an age-old practice, but perhaps too old. Today's more progressive parents are allowing their little ones to sit at the 'big kid' table. After all, the holidays are about togetherness. If you're not sure which side of the fence you're on, keep reading, this could help you decide.
If you can't beat 'em, join 'em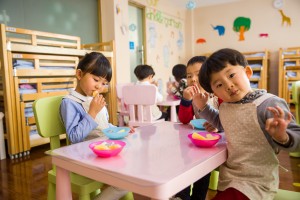 So you've decided you're a 21st century parent, who says, let them join us. This also means you are openly accepting the challenge and you should be prepared to handle the following inevitable situations.
No high chairs allowed. Dining at the adult table means there will be no, high chairs, booster seats, straps, or buckles. For your child this means: complete freedom. Lets get one thing straight; they will get out of their seats. But what's more important, where they're eating or the fact that they're actually eating? So your toddler/ baby might be passed around the table a bit. Sharing the responsibility with family members will give mom and dad time to scarf down food as well.
Not the China! If you're worried about breaking a dish, glass, plate, you should be. Odds are, something will break, but I'm a clumsy adult too, so it may or may not be your kids. Just accept that accidents do happen. On the other hand if you're trying to convince your toddler to use the good China for mere principal, don't. They will most likely be uninterested in the boring, white plates, and want their colorful, plastic ones instead. So, bring them. Surely your Aunt Sally won't mind avoiding the risk anyway.
What's that green stuff? Toddlers will be picky. You can hardly get them to eat traditional foods, let alone special occasion foods that are only served once a year. So choose your battles. Stick to the three main food groups: protein, grains, and pumpkin pie counts as a fruit right?
Definitely, a kids table.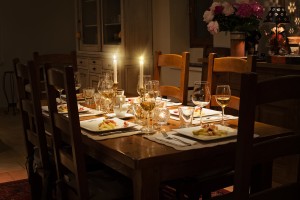 On the the other hand, if the China is just too good, or your kids are just too wild (or both). That kids table may still be your saving grace. No judgment, we totally get it. Perhaps even sitting at the adult table is a privilege. That we totally respect. If you're not sure when your child may be ready to make the transition from kids table to adult, here are a few table manners you might want to consider before they make the switch.
The main ones include:
Napkin on lap
Chew with mouth closed (don't talk with mouth full)
Use silverware properly
Stay in your seat
No elbows on table
You may also like your child to wait until everyone is served to begin eating, or take small portions, or give thanks. The bottom line is, you make the rules; you keep the sanity.
Happy holidays, and a peaceful holiday dinner to all!