Make the most unique Bloody Mary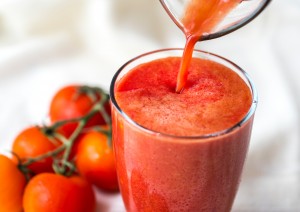 A Bloody Mary in the morning is nothing short of a classic. This cocktail contains a blend of tomato juice,  vodka, and other spices and flavors such as Worcestershire sauce, garlic, herbs, and celery, to name a few. The Bloody Mary is the staple of any brunch and enjoyed by the most sophisticated of drinkers. Since it's creation in the early 1900's when you drink a Bloody Mary, you know what to expect, but if you want a taste of a little more than just tomato juice, try one of these most unique Bloody Mary recipes instead!
The Green Bloody Mary
Its no surprise that this green Bloody Mary gets its name and it's coloring from delicious green tomatoes. A total game changer and a total change in deliciousness. To make:
Combine 3 medium tomatillos, 3 medium green tomatoes, and 1 1/2 cups water.
Add 1 celery stalk, 1/4 cup cilantro, 2 tablespoons green hot sauce, 1/2 tablespoon of Worcestershire sauce, and 1/4 teaspoon ground cumin. Blend to desired consistency.
Add salt and pepper to taste and 1 lime wedge.
Coat with kosher salt on rim of glass.
Top with 1 teaspoon chili powder.
Pour in 6 ounces of vodka
The Ultimate Bloody Mary
This version of the Bloody Mary is all about the toppings, and they're sure to blow you away. This Bloody Mary is typically served on the rocks, but just wait until you taste what comes on top that makes it stand out. To make:
Combine 2oz. vodka, 2oz. Tomato purée, 1/2 oz. lemon juice, dash Worcestershire sauce, 2 tsp. horseradish, 3 dashes tobasco, and salt and pepper. Serve over ice.
Garnish with as much of the following as possible: whole cooked crab leg, whole cooked shrimp, bacon, celery stick, lemon wedge, pickled green beans, Casper berries, cherry tomatoes, mini sweet peppers, and cornichons.
Philly Cheesesteak Bloody Mary
Dinner and a drink in one? We'll take it. This recipe takes Bloody Mary to a whole new level. Be sure to invite guests when you make this one, it's sure to impress! To make:
Combine 12oz. V8 juice, 4oz. Vodka, 1/2c. beef broth, 2 teaspoons steak sauce, 1 teaspoon Worcestershire sauce, 1/2 teaspoon horseradish, and 1/2 teaspoon hot pepper sauce.
Serve over ice.