The proper way to have alcohol at breakfast
They say it's 5 o'clock somewhere, but if you drink anytime in the a.m., chances are you'll get allllll the dirty looks. What most people don't know is that drinking at breakfast was a tradition in England. In fact, it was specifcally named having a 'breakfast beer'. While no one is completely sure when this tradition changed, what we are saying is: bring it back (in moderation) please! So, if you'd like to dine like the sophisticated English used to, here's the proper way to have alcohol at breakfast.
Sleep in
One thing is for sure, there's a big difference between 6:30 a.m. and 10:30 a.m., so if you're wondering when to drink, choose the latter. A large sip of alcohol just isn't considered the best pick-me-up if you're an early riser at the crack of dawn. It is considered artistic however, to indulge in small sips of alcohol closer to noon, since it's practically lunch anyway.
Make it a mimosa
If you're wondering what to drink, of course the most acceptable of them all is a mimosa. A mimosa is typically a simple blend of orange juice and champagne, but we recommend this recipe for an added twist:
Fill champagne glass with 1/3 orange juice, 1/3 Crabbies ginger beer, and finish with champagne or sparkling wine.
Garnish with lemon and lime slices.
Serve and enjoy!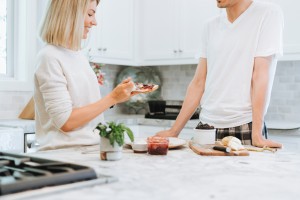 Invite company
Drinking is always better with friends, but in this case especially. Drinking alone at breakfast may be considered out of taste, but having brunch with friends is completely acceptable. We promise it will make the food and the drinks taste even better!
Combine with coffee
A mimosa may be the ultimate brunch drink, but alcohol with coffee gives you that mmm feeling you never even knew existed. It's like waking up, but still feeling just as cozy as you did in bed. We recommend adding Kahlua, Irish Creme Liqueor, or even coffee infused vodka.