Which College Stadiums Offer Beer on Tap
Have you ever thought about the great debate that is: beer served at college stadiums? There's no doubt that the common belief today is that beer should be served at all college stadiums, but it hasn't always been that way.
Colleges once shied away from selling beer, since at least half their student population couldn't legally purchase it. However, restaurants don't stop selling beer because there are kids present, so is that even a valid point? Not to mention there are more than just students that attend games. Parents, friends, and fans alike also come to have a great time and are well over the legal drinking age.
We all agree, beer should be served at college stadiums, and here's all the stadiums that agree with us.
The Stadiums
These are the best stadiums that serve beer on-campus
• Akron
• Bowling Green
• Cincinnati
• Colorado State
• Houston
• Kent State
• Louisiana- Lafayette
• Louisiana- Monroe
• Louisville
• Maryland
• Minnesota
• Nevada
• North Texas
• SMU
• Texas
• Toledo
• Troy
• Tulane
• UNLV
• UTEP
• West Virginia
• Western Kentucky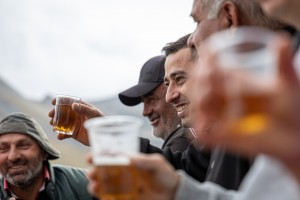 Here's Why
Not selling it, doesn't mean avoiding it. Keep in mind, it is a college campus, finding beer is not hard, and truthfully beer sales at games isn't going change that. In fact, if you're a college student, of legal drinking or not, chances are you've stepped through- the tailgate. So yeah, beer isn't hard to come by, especially on game day.
Money. If there's one thing that every college needs more of, its money. While it might be difficult to admit, there's no doubt that selling alcohol on game days is a huge profit maker for schools. That's money that can go back into the sports and other programs we love.
Better than sneaking. Selling alcohol at college stadiums ensures one thing- that it won't be snuck in. Let's face it. When you put restrictions on things such as alcohol, the outcome is not pretty. Instead, spend less time keeping alcohol out and more time selling it in a controlled, safe environment.